It has been quite a while since the day Steve Jobs introduced us all to the legendary iPhone back in 2007. Ever since that fateful day, this smartphone line marketed as well as designed by Apple Inc. has been hogging the limelight all for itself. Due to utilizing exclusively the arguably most effective and resilient operating system in the world, the iOS, there is no other smartphone series that can compete with the iPhone when we talk about operating speed as well as the lack of power consumption. Being the pioneer of modern smartphone design, it is only natural to say that all of the other smartphone series take their inspiration from the user interface of the iPhone. Due to this, the iPhone has never lost its popularity and remains to be the unarguably most popular smartphone series in the whole world.
As a result of the long-term popularity of the iPhone, Apple Inc. rose to become the very first company in the world to be worth one trillion dollars. Thus, one can see clearly just how popular the iPhone series is. The number of people using this kind of device far outweighs the number of people using some other series. From the day the iPhone was introduced, Apple has gone on to release a total of eleven generations of this series. Thus, nowadays there are quite a lot of people using the iPhone. However, due to the design, there is no way to make them stand out among the crowd with just the base phone. Thus, for the Dragon Ball fans who use iPhone, here are the 10 Coolest And Most Unique Dragon Ball Z iPhone Cases in 2023.
As we all know, Dragon Ball characters are all known as the manliest of all anime characters. Among them, there is none as manly as the main character, Son Goku. Due to this, it is only natural that I introduce you all to the DBZ Son Goku Chicago Bull Nice Design iPhone 4 5 6 7 8 Plus X Case. Featuring Son Goku in a Bulls basketball uniform, you will surely be satisfied with this case.
---
While we all are now more familiar with the adult and powerful Son Goku, we must never forget that he started out as an adorable kid who just happens to be more powerful than us all. Of course, that is why I present to you this Palm Tree Cute Kid Goku Master Roshi Vintage Beige iPhone 4 5 6 7 8 Plus X Case.
---
Out of all the Z fighters, there are none that started out as hated as Vegeta and none has managed to become as loved as Vegeta. This man is a complex mix of characteristics. Thus, I am proud to present to you this Dragon Ball Vegeta Great Ape Monster Within Dope iPhone 4 5 6 7 8 Plus X Case. Made from Anti-Shock PC material, you will surely be satisfied with it.
---
Due to his pride, we all can easily feel the pain in Vegeta throughout the Majin incident arc. Thus, I hope that you will like this Dragon Ball Majin Vegeta Pain Motivation Quotes iPhone 4 5 6 7 Plus Case. Just like the Saiyan that it is modeled from, the case is pretty durable as it is made from the high-quality Anti-Shock PC material.
---
Since Son Goku has been among the most popular anime characters of all time for quite a long time, I figure that there is no way that you can refuse this Dragon Ball Super Saiyan Black & White Goku Hard PC iPhone 5 6 7 s Plus Case. After all, aside from its artistic value, we also made it from the highest quality of Anti-Shock PC material.
---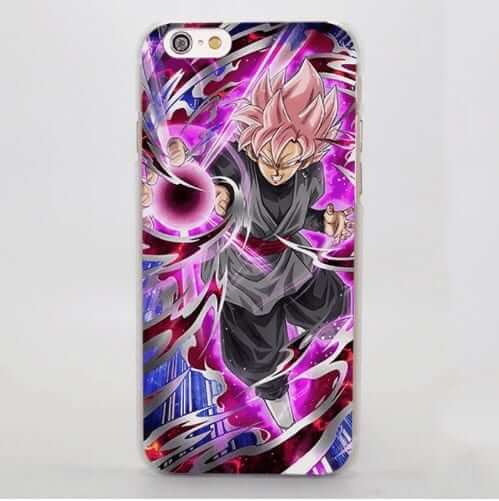 In recent times, the most popular villain crown has been passed on to Goku Black. Thus, there is no way that a fan can say no to this DBZ Goku Black Super Saiyan Rose Ki Ball Vibrant Style iPhone 4 5 6 7 8 Plus X Case. Completely brand new and of the highest quality, you will surely be satisfied with this case.
---
If we are talking about the most loved villain in all of the Dragon Ball franchise, I don't think that there is anyone that can challenge the Majin Buu. Thus, I would like to present to the fans of this guy the DBZ Pink Powerful Majin Buu Cute Face Skin Cover iPhone 4 5 6 7 8 Plus X Case.
---
If Majin Buu is the most loved villain of all time, then Kid Buu is undeniably the most feared one. Due to his unhinged and sadistic nature, this guy has managed to scare an entire generation. So, I figure that we should look back at his heyday with this DBZ Kid Buu Energy Ball Chibi Art Style Decal Skin iPhone 4 5 6 7 Plus Case.
---
Just as sturdy as Frieza, this one is made from Anti-Shock PC material, one can always expect the highest quality and durability from this DBZ Frieza Villain 3RD Form Evil Laugh Dangerous Creature iPhone 4 5 6 7 8 Plus X Case.
---
Once upon a time, people all thought that Gohan will step up and take the place of his father to become the new main character. While it did not come true, Son Gohan still remains to be one of the most popular characters of the series. Thus, I offer this Dragon Ball Gohan Kid Saiyan Portraits Realistic Arts iPhone 4 5 6 7 8 Plus X Case to his fans.
---
Browse more from our popular categories
---
Latest blog posts