Dragon Ball Z, the anime that we all grew up watching. It will always hold a special place in our hearts, as we all know and love the easy-going, happy Son Goku, the serious, bad-at-first Vegeta, or the one who had the talent to become the strongest but chose to be a scholar, Gohan. Is there any better way for us to show our love for these characters and the series as a whole than wearing something that is inspired by them? Furthermore, as summer is close, there is nothing better than a tank top, so we have decided to go through the excruciating process of choosing to put together this list of 10 Dragon Ball Z Tank Tops to brighten up your summertime.
---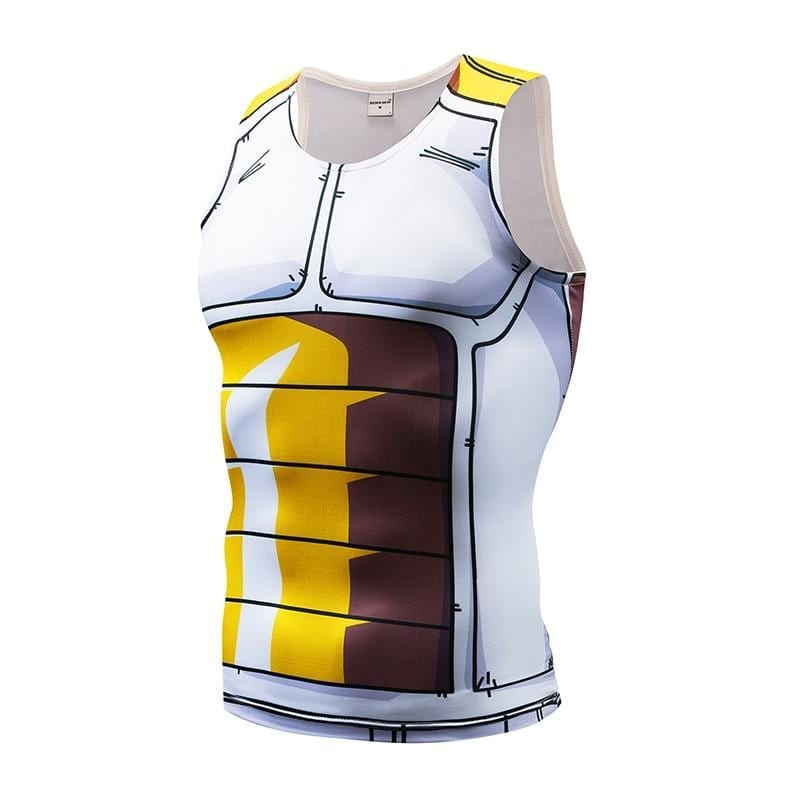 Do you want to take down that annoying Kakarot? Why don't you do it in style with this Vegeta tank top? Made with only premium polyester, this sleeveless tank top will surely grant you complete flexibility for any kind of activity. Furthermore, it underwent a special sublimation printing process utilizing a unique heat-dye application, which helps it resist any fading or bleed, so you are welcome to wash it with your washing machine as much as you like. Lift as hard as you can and build for yourself a body just like Vegeta, anyone can be a warrior with this tank top.
---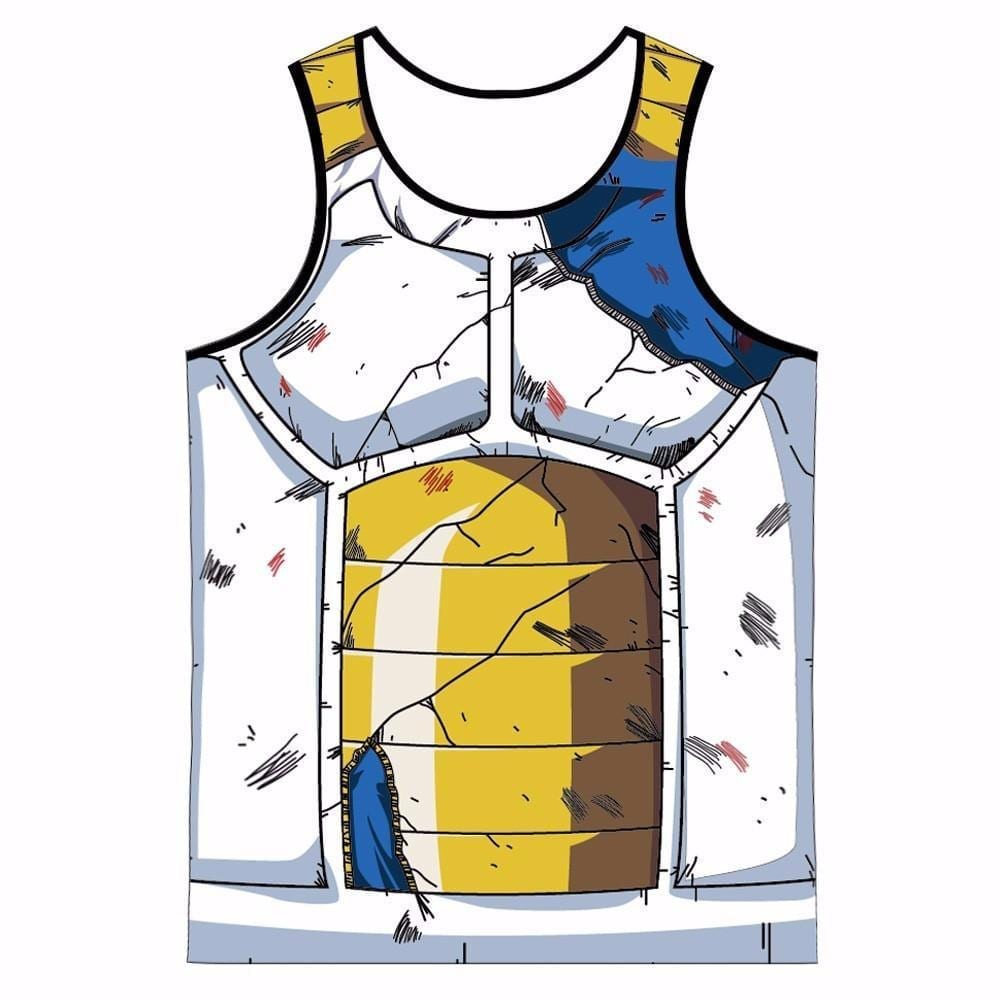 Do you want to show others your ruggedness? If the answer is yes, this is the perfect product for you. The tank top is uniquely created with a special sublimation technique. It transfers perfectly the sense of dread and the hopelessness of the Cell battle. Why don't you train your body with this tank top as a reminder that no one is safe and one should always be prepared?
---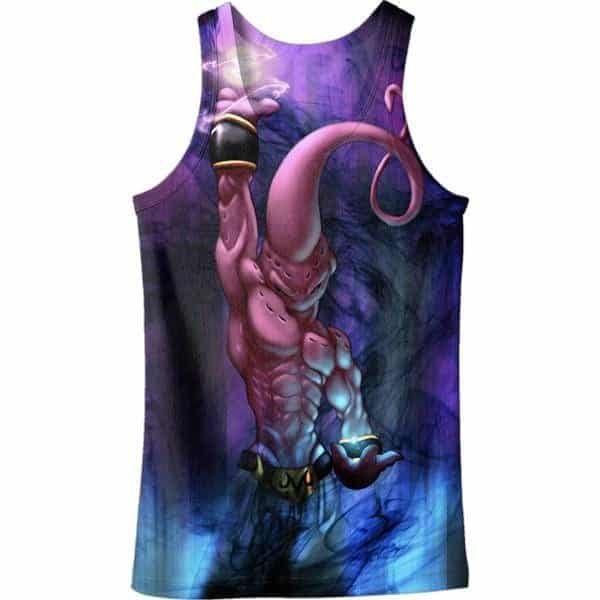 Kid Buu, arguably the most dangerous Dragon Ball Z villain, he is strong, he is vicious, he is unbeatable. If Fat Buu seems like a baby who does not know about the moral compass that can still redeem, then Slim Buu is a villain through and through, but Kid Buu, now this is simply devil incarnate, and this tank top delivers his essence perfectly. Stitched with polyester spandex blend, this tank top can wrap and hug your body without making you feel uncomfortable. Let us all try being the bad guy for once and rock this incredibly unique tank top.
---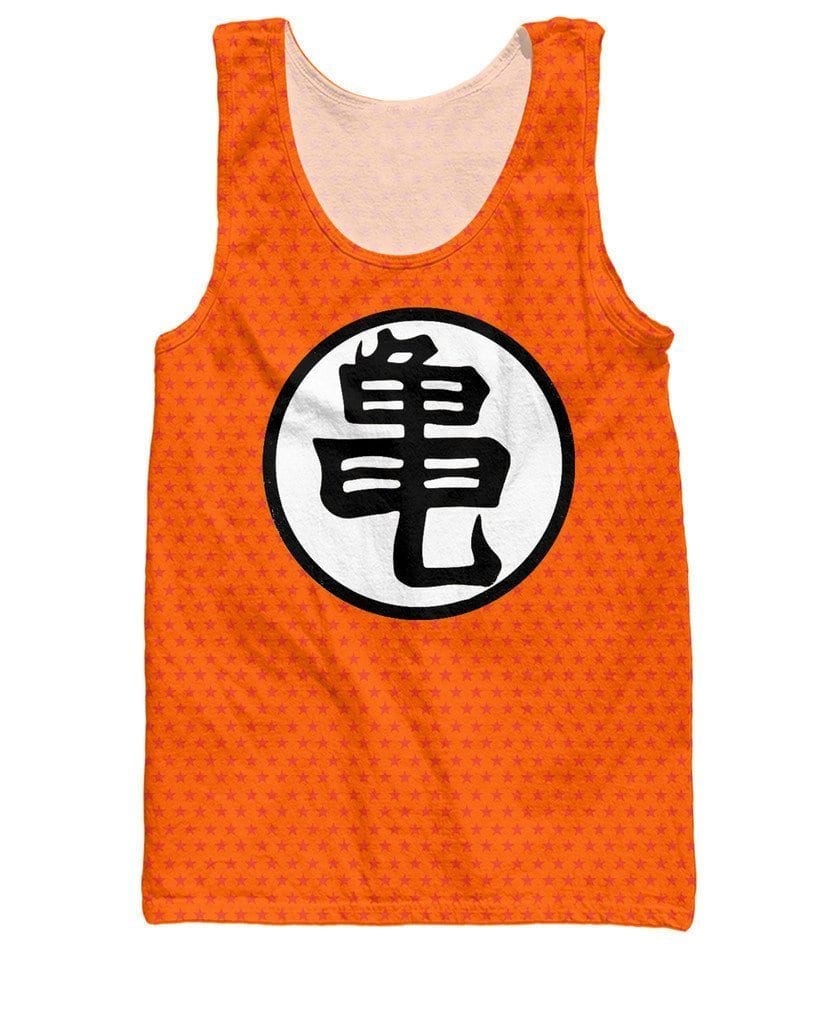 Are you a big Goku fan? Are you a gym addict? Do you like Master Roshi? If all of this check, this product is simply the perfect thing for you. With its basic, simple but elegant and vibrant color scheme, this tank top can be used in any kind of activity that you engage. Furthermore, this tank top was created with the All Over Print and 3D techniques, this coupled with its high-quality fabric makes it very durable and resistant to color fading.
---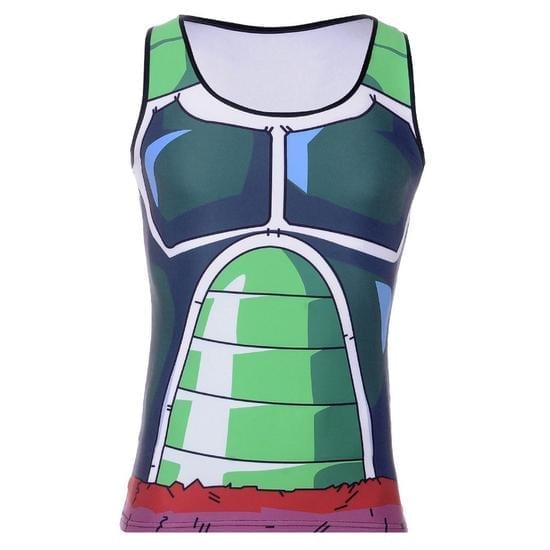 For any Dragon Ball fan, we can all agree that the Saiyan mythos can be divided easily into two parts: before Bardock and after Bardock. As he is technically the very first Super Saiyan, it is he who made the universe aware of the term Super Saiyan, it is he who almost killed Chilled and instilled Frieza with fear. Furthermore, he is the father of the strongest man in the galaxy, Son Goku. This tank top is inspired by Bardock's battle suit, why don't you check it out?
---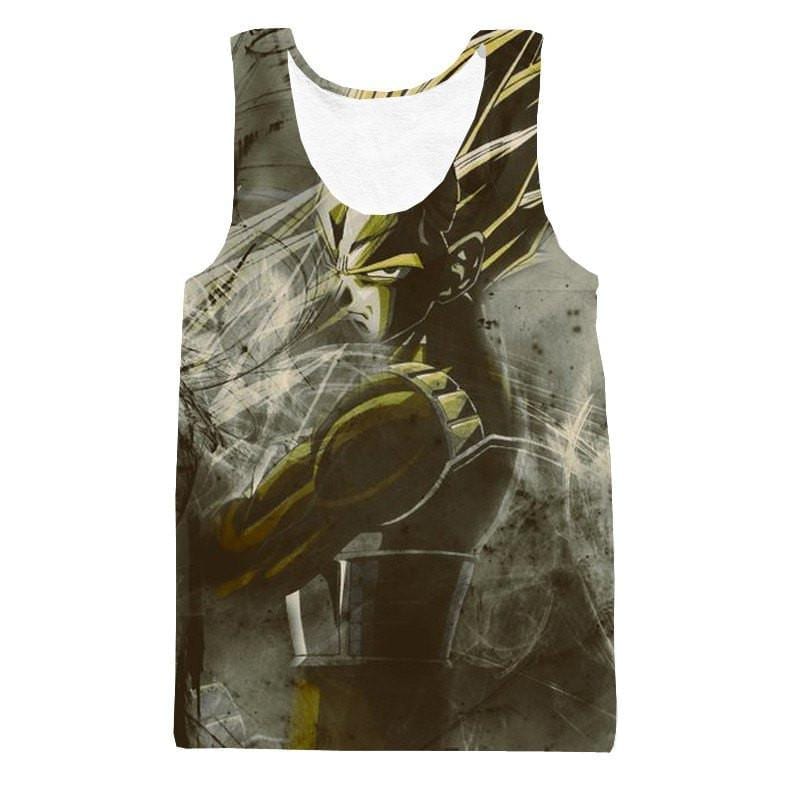 Vegeta, the Saiyan prince, the one who was destined to lead Saiyan into greatness, but he was cursed to be always the second strongest the moment he met Son Goku. However, do not be fooled, he might only be the second strongest, but when the only one stronger than you is Son Goku, you are one tough cookie. This tank top perfectly captures the pure epic feeling of Vegeta's transformation and his rage. Furthermore, the color scheme makes it seems vintage and stylish.
---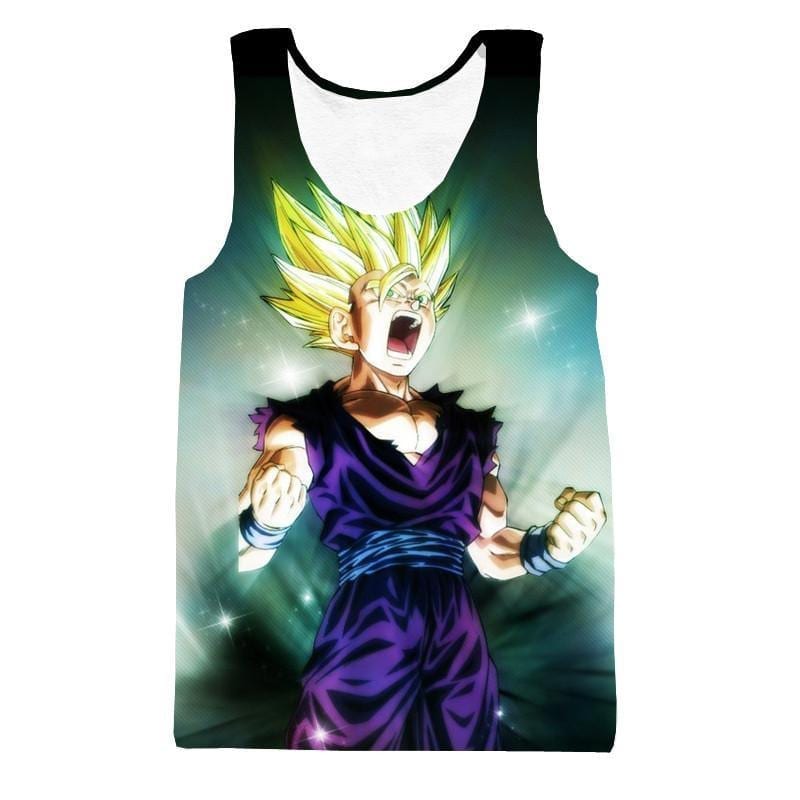 Son Gohan, the hybrid, he was predicted to be the strongest, but he turned it down and chose to be a scholar, that takes a special kind of courage. We all know how strong he can be, but nothing can describe his strength quite as good as the scene where he turned into Super Saiyan SSJ2. With its vibrant and colorful color scheme, this tank top has captured that moment perfectly.
---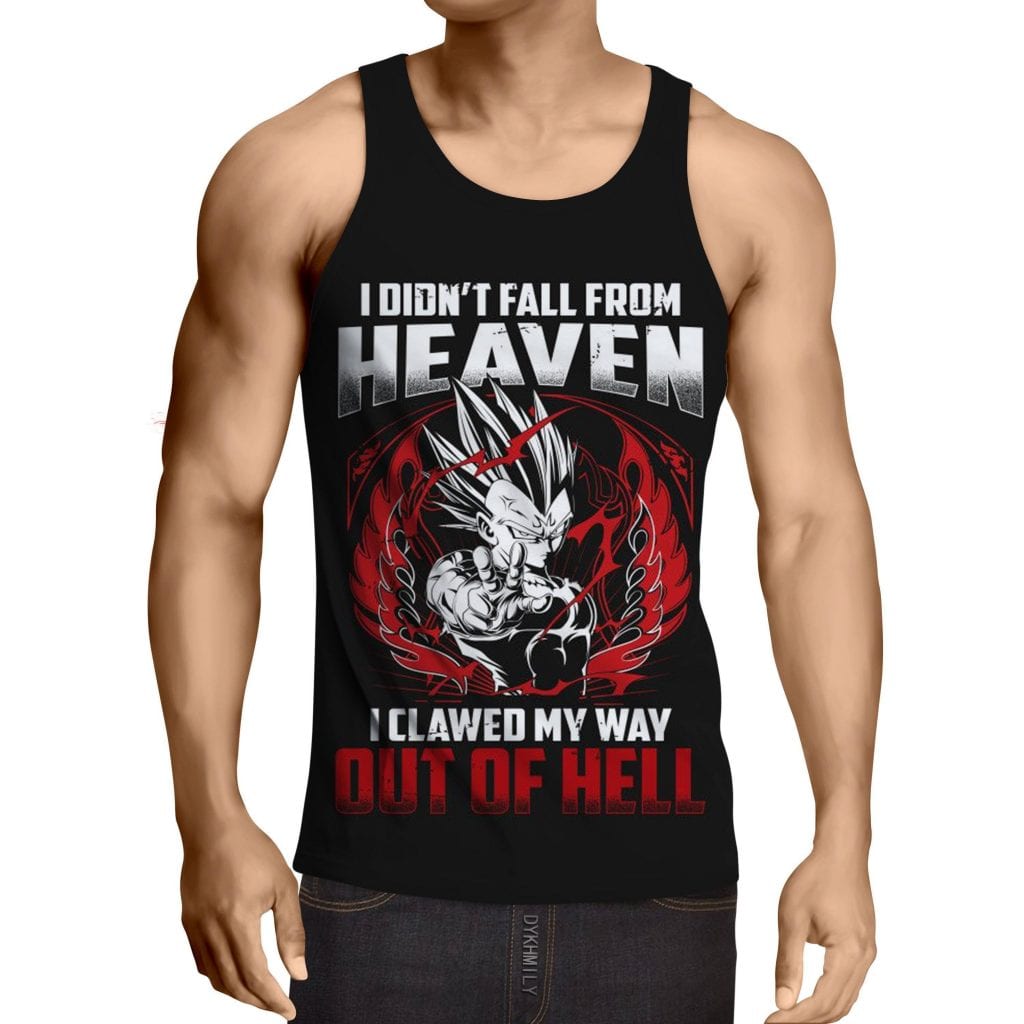 Usually, a tank top with a good motivation quote is cool enough, can you imagine what it is like when a good quote is added to an already badass image of Vegeta? This Vegeta tank top is the answer to that question, with its aggressive color scheme, the tank top simply oozes charisma, and its attractiveness can only be increased by the quote that perfectly synthesizes with Vegeta's life. How cool will it be to work out wearing something like this?
---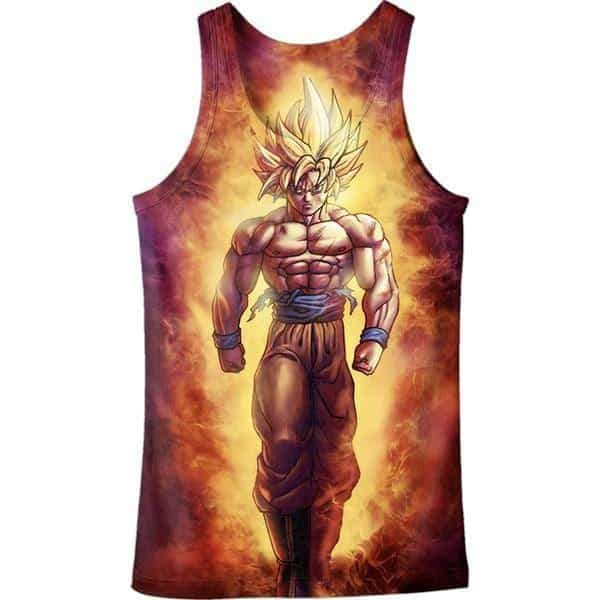 Son Goku, he is usually a peace-loving idiot who loves to eat and get bullied daily by his wife, but you just had to acknowledge his charisma and power, especially once he turns into a Super Saiyan. This tank top captures that feeling perfectly with its vibrant and aggressive color scheme. It is stitched with polyester spandex blend, making it possible for the tank top to hugs your body completely without making you feel uncomfortable.
---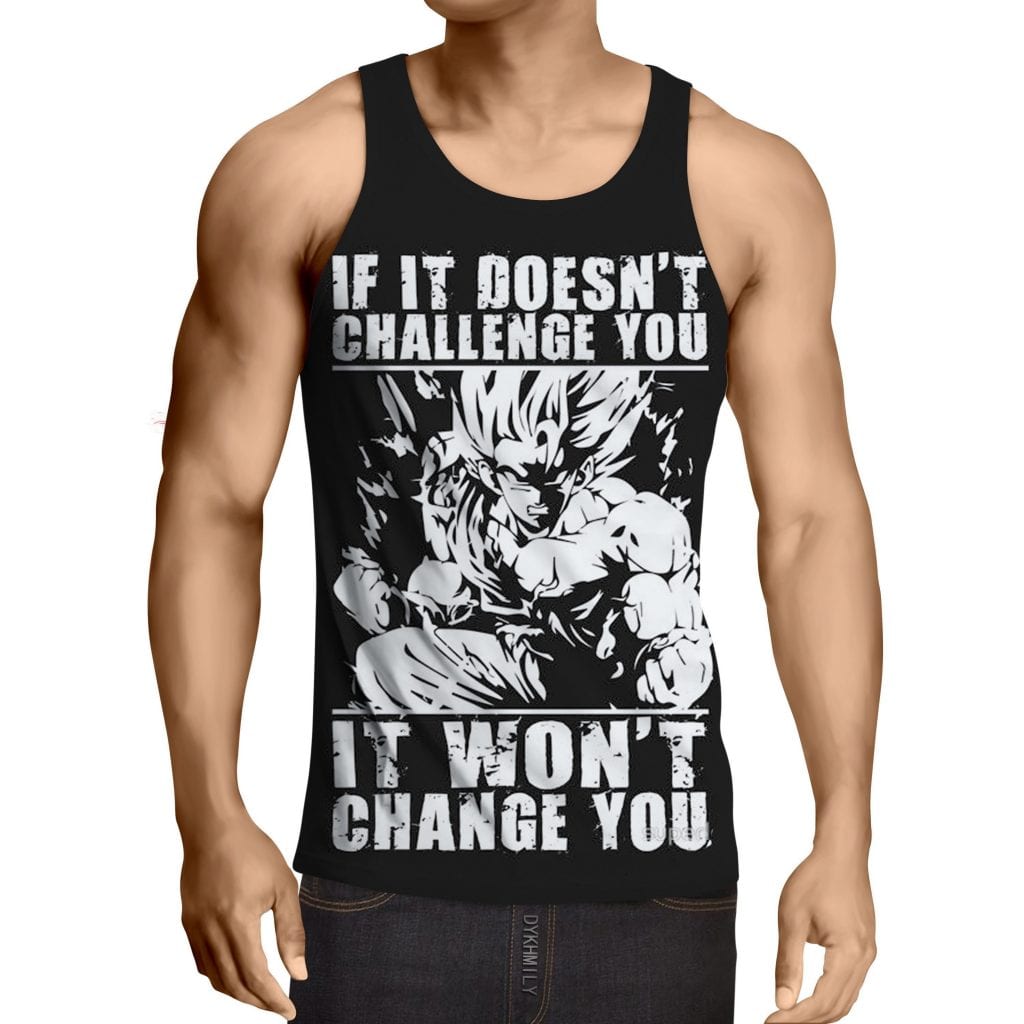 As we already have one motivation quote tank top for Vegeta on this list, there is no way we do not include one for Goku. This tank top utilizes a simple but no less intimidating color scheme, coupled with a great quote that sums up perfectly the way Son Goku lived his life, making it a great addition to a hardcore Dragon Ball fan's collection.
---
Browse more from our popular categories
---
Latest blog posts